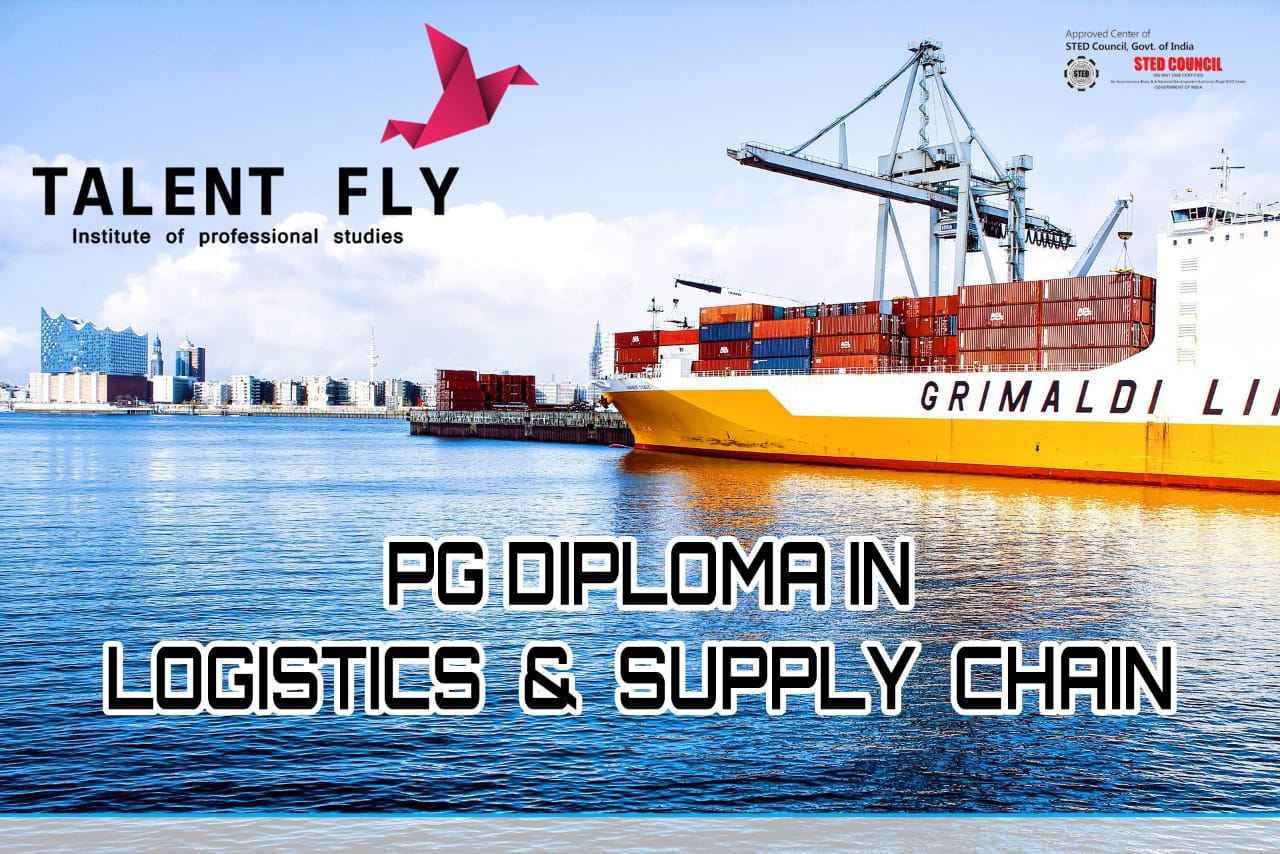 The PG diploma in Logistics and Supply Chain Management program focuses
Talent Fly Institute of Professional Studies, is the one of the best institute which provides logistics courses in Kochi. We are facilitating the maximum easier method of studies to students for logistics courses in Kochi. And we are focused  to get quick jobs to our students in the field of logistics courses in Kochi, Ernakulam, Kerala. And we have more than fifty students yearly doing their logistics courses in Kochi branch. And we are providing many programmes of short and long term to our students only in stream of logistics courses in Kochi, Ernakulam, Kerala.
Logistics is the management of the flow of things between the point of origin and the point of consumption in order to meet requirements of customers or corporate. The resources managed in logistics currently include physical items such as food, materials, animals, equipment and liquid as well as abstract items. Such as manage time, information, Transport, unit pricing and quantity particles and energy. The logistics of physical items usually involves the integration of information flow, which is material handling, production, packing, inventory, transportation, warehousing and often security. The complexity of logistics can be modelled, analysed, visualized and optimized by dedicated simulation software. The minimization of the use resources is a common motivation in logistics for import and export.
It is a channel of the supply chain management adds the value of time and place utility. In this management it is the governance of supply chain functions. it is management activities which includes inbound and outbound transportation management ,fleet management, warehousing, materials handling, order fulfilment, network design,  inventory management, supply/demand planning, and management of third party logistics services providers. To varying degrees, the function also includes customer service, sourcing and procurement, production planning and scheduling, packing and assembly. This management is part of all levels of planning and execution strategic, operational and tactical. it is an integrating function, which coordinates all activities, as well as integrated activities with other function including marketing, sales manufacturing, finance and information technology.
The term Logistics comes from the Greek Logos, meaning "speech, reason, ratio, rationality, language, phrase", and more specifically from the Greek word logistiki, meaning accounting  and financial organization. The word logistics has its origin in the French verb loger to loge or to quarter. Its original use was to describe the science of movement, supplying & maintenance of military forces in the field. Later on it was used to describe the management of materials flow through an organisation, from raw materials through to finished goods.
Logistics is considered to have originated in the military's need to supply themselves with arms, ammunition and rations as they moved from their base to a forward position. In ancient Greek, Roman and Byzantine empire, military officers with the title logistikas were responsible for financial and supply distribution matters.
The Oxford English  Dictionary defines logistics as " the branch of military science having to do with procuring, maintaining and transporting materiel, personnel and facilities." Another diction-ary definition is "the time related positioning of resources."  As such, it is commonly seen as a branch of engineering that creates "people systems" rather than "machine systems". When we talk in terms of HRM it means giving inputs i.e. recruiting man power which ultimately works for the final consumer or to deliver services.
Logistics is the function that enables the flow of materials from suppliers into an organization through operation within the organization out to the customers. It is derived from the great word "Logistikos" which means 'to reason logically' it is basically consists of all operations required for goods (both tangible and intangible) to be made available in markets or at specific destinations.
According to Council of Logistics Management ( USA) "Logistics is the process of planning, implementing and controlling the efficient, effective flow and storage of goods, services and related information from the point of origin to the point of consumption for the purpose of confirming the customer requirements".
"Logistics means having the right thing, at the right place, at right time."- and it is defined on many other bases also. Now we can go through it.
It is defined as a business planning framework for the management of materials, service, information and capital flows. It includes the increasingly complex information, communication and control systems required in today's business environ-ment. (Logistix Partners Oy, Helsinki, Fl, 1996)
The science of planning and carrying out the movement and maintenance of forces… those aspects of military operations that deal with the design and development, acquisition, storage, movement, distribution, maintenance, evacuation and disposition of materials; movement, evacuation and hospitalization of personnel; acquisition of construction, maintenance, operation and disposition of facilities; and acquisition of furnishing of services. (JCS Pub 1-02 excerpt)
The procurement, maintenance, distribution, and replacement of personnel and materiel. (Websters Dictionary)
The branch of military operations that deal with the procurement, distribution, maintenance, and replacement of materiel and personnel. The management of the details of an operation. [French logistique, logic (perhaps influenced by loger, to quarter), from Medieval Latin logisticus, of calculation.] – (American Heritage Dictionary)
The process of planning implementing, and controlling the efficient, effective flow and storage of goods, services, and related information from point of origin to point of consumption for the purpose of conforming to customer requirements." Note that this definition includes inbound, outbound, internal and external movements, and return of materials for environmental purpose.- (Reference: Council of Logistics Management, 12 Feb 98)
The process of planning, implementing and controlling the efficient, cost effective flow and storage of raw materials, in-process inventory, finished goods and related information from point of origin to point of consumption for the purpose of meeting customer requirements. (Reference; Canadian Association of Logistics Management, 12 Feb 98)
Rene Descartes : Descartes Debuts System for Logistics Flow Control
Rene' Descartes was a French philosopher, mathematician, and scientist. Dubbed the father of modern western philosophy is a response to his writings, which are studied closely to this day. He spent about 20 years of his life in the Dutch Republic. Descartes describes system for controlling the flow of goods across the retail community. It combines multiple logistics capabilities, including global trade compliance, inventory and purchase-order visibility, transportation management, and the yard and dock-door flow control of distribution centre operations. As Descartes noted, logistics flow control involves tight collaboration among multiple parties, including the retailer and its transportation providers, customs brokers, consolidators and freight forwarders, as well as each of those entities' suppliers. Proper compliance requires cooperation among all parties. To develop the new tool, Descartes drew on Microsoft technologies, which allow tens of thousands of users across thousands of companies in its federal community to use cloud-based capabilities for the  management of hundreds of thousand of purchase orders and shipments, and billions of dollars worth of inventory.
From the beginning of history, human sensitivity has relived an urge for mobility leading to a measure of society's progress. The history of this mobility or transport is the history of civilization. For any country to develop with right momentum modern and efficient Transport as a basic infrastructure is a must. It has been seen throughout the history of any nation that a proper, extensive and efficient Road Transport has played a major role. 'Transporters' perform one of the most important activities, at every stage of advanced civilization. Where roads are considered as veins and arteries of a nation, passenger and goods transported are liked to blood in circulation. Passenger Road Transport Service (PRTS) is an essential connected to the economic development. Transportation is the essential convenience with which people not just connect but progress. Throughout history, people's progress has been sustained on the convenience, speed and safety of the modes of transport. Road transport occupies a primary place in-to-day's world as it provides a reach unparallelly by any other contemporary mode of transportation. and after day by day developed many transportation methods has been developed and they are road , rail, water and air transportation, According to the features of the goods we are choosing the mode of transport. And we have lost of job vacancy in this field now we can get a look through it:
Opportunities
Air cargo
Cargo operation staff
Cargo customs clearance staff
Cargo acceptance staff
Ground handling staff
Delivery assistance
Coordinators
Shipping
Sales & Marketing staff
Sales coordinator
Liner operation support
Container sales staff
LC documentation Executives
Freight Forwarding
Export/Import Operation Coordinators
Sales & Marketing Assistants
Sales & Marketing Executives
Courier Services
Customer Service Executives
Operation Coordinators
Retail Trade
Asst. Buyers
Sales Coordinators
Purchase Coordinators
Sales & Marketing Assistance
Indoor Sales Man
Merchandisers
Retail Distribution
Purchase Coordinator
Sales Coordinator
LC Documentation staff
Import/Export
Document Controllers
Logistics Coordinators
Warehouse Assistance
Inventory Assistants
Manufacturing
Export Import Coordinators
Logistics Executive
Logistics Coordinators